Useful tips about improvisation on classical guitar
Ten tips from three great guitarists
Classical Guitar has published a really useful article about improvisation, with 10 tips from three great guitar players: Andrew York, Roland Dyens, and Dušan Bogdanovic.
Classical guitar students may encounter a lack of standard practice and instruction in improvisation. Gerald Klickstein, in The Musician's Way: A Guide to Practice, Performance, and Wellness, encourages students to embrace improvisation as a component of the "musicianship zone," along with sight-reading practice; practicing scales, arpeggios, etudes, and so forth he designates as part of the "technique zone." Improvisation is an act of surrender, delving, as Van Morrison called it, "into the mystic." Classical guitarists interested in developing or improving improvisational skills can start with a few relatively simple steps.
---
The guitarists
Andrew York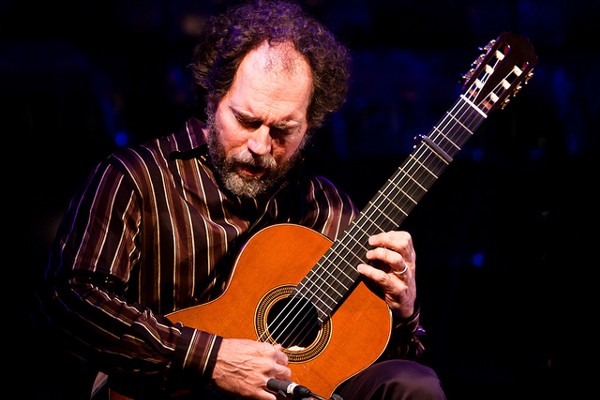 Andrew York has had equal success as a composer and concert guitarist. In both realms he has deftly straddled two worlds: classical and crossover. His compositions typically mix classical music with folk and rock elements and have attracted some of the foremost classical guitarists in the world, including John Williams, Christopher Parkening, and David Brandon. As a performer York became well known as a member of the Los Angeles Guitar Quartet, a group for which he wrote many compositions and arrangements, a fair number of which were recorded.
Roland Dyens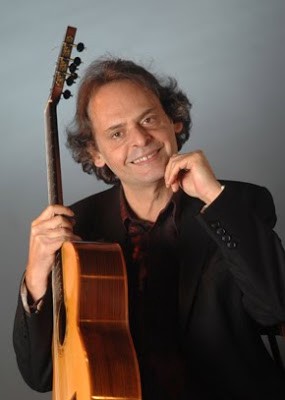 Roland Dyens is  was recognized both as one of the most prominent classical guitarists of his generation and as an important composer and arranger of music for the guitar. He is distinguished from most of his rivals by his deft improvisatory skills. His music is quite accessible, often employing folk sources and jazz styles woven into a colorful fabric always suited to the unique sounds of the guitar. Dyens' 1985 piece Tango en Skaï is probably his most popular, though Valse en skaï and Libra Sonatine have also enjoyed currency. Virtually all of Dyens' works involve the guitar: some are solo pieces, while others use several guitars or a combination of instruments (guitar and piano; guitar and string quartet, etc.), while others still use orchestral accompaniment. As a performer, Dyens' repertory is broad, taking in standards by Rodrigo, Sor, Moreno Torroba, Mangoré, and Brouwer. He also performs a number of his own transcriptions of works by Chopin, Villa-Lobos, Satie, and Weiss, as well as compositions he fashioned after themes by Mozart, Rossini, Brouwer, and others.
Dušan Bogdanovic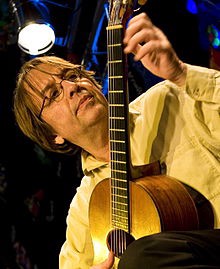 Dusan Bogdanovic is recognized for his exploration of classical, jazz, and world music. Born in Yugoslavia in 1955, after completing his studies he gained professorship in Switzerland at the Geneva Conservatory. Bogdanovic has performed all over the world and accumulated a number of recording credits, including a variety of jazz settings with Charlie Haden, Anthony Cox, and James Newton on the Palo Alto, Intuition, and Concord labels. He is a founding member of the Falla Guitar Trio encompassing Afro-Latin, jazz, light classical, and mainstream pop in an acoustic guitar setting.
---
The tips
1. DEVELOP YOUR EAR
Andrew York:
"The best way to begin is by having a really good ear, develop your ear in a way that you can hear the different qualities of each pitch in relation to the whole piece. If you're in the key of G, and play a G major scale over it, every note of the scale should have a noticeably different quality to you, a distinct color. The more aware you are of the way notes relate to a home key, the better you can improvise. If you can't play what you hear in your mind, you can't really improvise."
2. GET POPULAR
Roland Dyens:
Learn how to accompany songs, such as popular songs, this is the first and perhaps most important step. Then learn to do things with the harmony, discover the inner voices of the song, like contrapuntal motion in polyphonic music. In France, we have the strong tradition of chanson, like Georges Brassens, Édith Piaf, Jacques Brel. Or, similarly, use jazz standards, because as you know, most jazz standards used to be popular songs, like 'Over the Rainbow.
3. MIX IT UP
Dušan Bogdanovic:
I actually do not see big borders between genres, and for me it is all a spectrum of defined or not-so-defined stylistic characteristics, improvising a ricercar is not the same as improvising a blues, but at this point I think the styles are largely a matter of history or marketing, and not of creative reality.
4. ARPEGGIATE
Delve into a piece such as Erik Satie's "Gymnopédie №1," of which several nice arrangements exist for classical guitar. Explore its string of sonorous, melodic chords, first as written, then extend the chords in a light arpeggio movement, and a third time in a more aggressive, free arpeggio. Congratulations, you've just improvised!
5: BE OPEN
Dušan Bogdanovic:
Start with inspiration and sincerity, but as far as particular keys, from the blues and Carcassi studies to Benjamin Britten's "Nocturnal," all roads lead to E, both major and minor.
Open keys allow you to use the guitar's open notes as drones when improvising.
6. GO BRAZILIAN
Learning and performing the music of Latin American composers can be conducive to improvisation, as the rhythms and melodies are often by nature freer, encouraging ornamentation and other forms of spontaneous interpretation.
7. GAIN A LAUNCH POINT AND EXIT STRATEGY
Two related strategies to improvise within a song include locating a section within a piece that you can use as a springboard into improvisation, and having a "go-to" section to transition out of your improvisation.
8. COLLECT ODD CHORDS
Roland Dyens:
When I improvise, I'm usually playing some things I know, that I think might work together, some of the thousands of things that I know might sound good. Improvisation presupposes a lot of musical knowledge. To have an 'organized improvisation,' something that sounds good, it's like the 'little sister' of a composition. So it's not completely random.
9. BRIDGE THE GAP TO THE STAGE
Dušan Bogdanovic:
Improvising in front of people is a challenge, of course, it is not the same responsibility as playing just for yourself, but on the other hand, it is also very inspirational and it can produce good results — after all, you are sharing your experience with a larger entity.
10. DON'T FRET
Roland Dyens:
To be honest — I have a lot of defects but I usually try to be honest — most of my improvisations are simply not very good. Sometimes, but very rarely, do I think, 'Wow, this one would have deserved to be a piece.' It happens, but it's rare.
Andrew York:
When you improvise in front of a lot of people, you hope it's going to go well. But it doesn't always go well. I'm not the most consistent improviser, like Dušan — he's a real genius at improvisation. It's not like learning a piece of music to the point where you're 95 percent sure you're going to execute it really well. Grade-A improvisation is not going to happen every single time. But when it works, it's magical.
The original article
10 Tips on Improvisation from Andrew York, Roland Dyens, and Dušan Bogdanovic