Abel Carlevaro: his technique, his guitar, his Microstudies
Sometimes, Youtube suggest me guitar related videos, and in most cases are very interesting contents.
Yesterday, the first suggestion is a long video lesson by Abel Carlevaro: i believe is a good idea share it.
Who is Abel Carlevaro?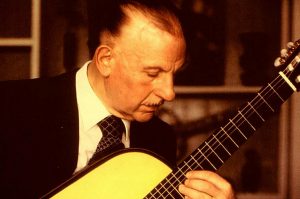 Abel Carlevaro (Montevideo, 16 December 1916 – Berlin, 17 July 2001) was the creator of a new school of instrumental technique which was revolutionary in its understanding of posture, sound development, and general philosophy of music.
This important contribution to the evolution of the guitar is expounded in his didactic series (the "Cuadernos"), four books focused on the development of both hands, and famous compositions that ranges from didactical studies (his Microstudies) to concert productions, like his Preludios Americanos and Concierto No. 3 para Guitarra y Orquesta.
---
The guitar
Carlevaro has also invented a new guitar (Concert-Guitar Model "Carlevaro"), wich a design that breaks away from traditional guitar making: the upper part of the sound box was straight, while the bottom is curved as usual.
This guitar also had the normal round sound hole closed, having instead a thin "sound-slot" all around the curvature of top, that is separated from the sides, held in place only by wooden pins from the sides.
This shape of soundboard (Carlevaro says) improves the vibration of the lower notes.
---
The video
On this video, Abel Carlevaro plays and explains five of his Microstudies in a relaxed masterclass. This is an excellent chance to see this excellent teacher explain his studies.
https://www.youtube.com/watch?v=-XbUkcjuMds
---
The Microstudies

Since their first publication in 1992 the Microstudies have become established among the most important sets of didactic studies for the guitar from the 20th century.
These twenty studies cover practically every aspect of guitar technique.
These short compositions are arranged in a progressive order of difficulty following the same structure as used by Fernando Sor, Mauro Giuliano, Leo Brouwer and others.
---
References