Suggested listenings: "Villa-Lobos plays Villa-Lobos"
Recently i have found on YouTube some wonderful recordings of Heitor Villa-Lobos playing his own music.
https://www.youtube.com/watch?v=KLbZLmIhggA
https://www.youtube.com/watch?v=UZkEYK4WKKg
The recordings seems to be extracted from the CD Villa Lobos Plays Villa-lobos, published by Sanctus Records and also available on Spotify:
https://open.spotify.com/album/7qW1DvvNMxzKeZxTsHuVkR
The track list is really interesting and includes the most known guitar composition by H.Villa-Lobos:
Prelude Nr. 1 for Guitar
Chôro Nr. 1 e-moll for Guitar
Nhapôpé for Soprano and Piano
Guriata for Soprano and PianoChôro Nr. 5 for Piano
Cantilena Nr. 3 for Soprano e Piano
Xangô for Soprano e Piano
A lenda do caboclo for Piano
Polichinelo for Piano
Villa-Lobos addresses an audience
My opinion about this recordings?
Substantially aligned with this comment on youtube video:

Despite the poor audio quality, this sounds so beautiful and musical...I've played this piece for the past two years and I think this is just the way it should be played...forget the John Williams, Christopher Parkening and Julian Brean versions...this version is simply soul stirring
---
The author
[caption id="attachment_3439" width="300" align="alignright"]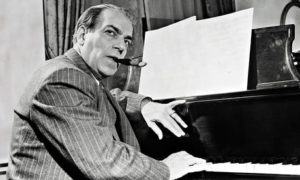 Portrait of composer Heitor Villa-Lobos (1887-1959) at the piano. Photograph: Unknown/ Bettmann/CORBIS[/caption]
Heitor Villa-Lobos was born in Rio de Janeiro.
He starts study harmony at at the Conservatório de Música, but after a few inconclusive lessons, he decide to learnt music by illicit observation from the top of the stairs of the regular musical evenings at his house arranged by his father Raul, an educated man of Spanish extraction, a librarian, and an amateur astronomer and musician.
He learned to play cello, guitar and clarinet. When his father died suddenly in 1899 he earned a living for his family by playing in cinema and theatres in Rio.
Heitor Villa-Lobos played and composed for the guitar many years before first meeting Andres Segovia, to whom his most important works are dedicated. Some of his guitar works were lost or remain unpublished.
---
Bonus tracks
On the same YouTube channel is also available a Villa-Lobos speech in João Pessoa, Brazil in 1951 (the last track of album).
HVL speaking about music and his home country of Brazil.
https://www.youtube.com/watch?v=z3uzM_q4h5k
https://www.youtube.com/watch?v=NEk95jHc1Ng
Below an english translation, extracted from video description:
Brazil has, by nature, the geographical form of a heart.
Every Brazilian has this heart.
Music goes from one soul to another. Birds talk through music. They have a heart. Everything we feel in life is felt in our hearts. The heart is life's metronome. And there's a lot of people who forget this.
A metronome is what humanity needs most. If there was someone who could implant a metronome at earth's core, maybe we'd be closer to peace. People misunderstand each other.
Races and peoples live mismatched, because they don't remember the metronome they keep in their bodies: the heart. God gave Brazil this geometrical form of a heart. And there's a throbbing rhythm in all countrymen, especially those from the northeastern region: this sense of rhythm, heart, this unit of movement, this sensitive metronome.
My friends, it was with this thought that I became a musician. It was because of this that I became a deep and eternal slave of this country's things. And I don't have any special gift for speaking or writing, but I do have a gift for sounds and rhythm. And I transcribe in sounds and rhythm this crazy love I have for my nation. This is my introduction.
This is, in principle, the justification of all I've been doing for Brazil so far.
I apologise for talking a little about my life, regarding Brazil. But it's necessary, because it may be useful to youngsters, in case they follow the same track, the same destiny God gave me. I've never looked for culture, erudition or knownledge in books, doctrines, theories or orthodox forms.
Never! Because my only book was Brazil. Not the map of Brazil, but this country's ground, where I tread, walk, roam.
Every man I find in Brazil represents an aesthetical form in musical conception.
Every bird that sings to my ears is a theme that gathers other themes, invisible and abstract themes that become music, art music.
Art that is free as our nature. An independent art, just like the birds of Brazil. Sentimental art, like our countrymen. My music is a reflection of sincerity. I grieved at the beginning.
Well, it's natural. It was a rebellion from those who were attached to tradition; those who could not even find themselves; those who never looked at the mirror of their consciousness, seeking the physiognomy of their own race. Brazil spent a lot of time, my friends, many years imitating.
But, thank God, sought a mirror, or found by chance the reflection of a big nation's reality. They could never be themselves if they hadn't done it their way, without imitating anybody. And this was done with ordinary things like fashion.
And even in literature! See the poets, for instance. The Parnassians and even modern poets. Look at some paintings, old and modern. Look at some sculptures, this art that is significant in Brazil like no other.
See? They've found themselves, they've found their way. Brazil finds its way. Unfortunatelly, our population is small if compared to the greatness of our land. But we find our way.
And all that suits so well my life's penitence.
---
References and further reading