"Town of Salem" leak: more than 2 million password hashes are already cracked
...and are available to download.
Personal details of 7.6 million users of BlankMediaGames game "Town of Salem" has been stolen by an unknown attacker.
Town of Salem is a browser-based game that challenges players on their ability to convincingly lie as well as detect when other players are lying. The game ranges from 7 to 15 players. 

http://town-of-salem.wikia.com/wiki/Town_of_Salem_Wiki:Main_Page
The exfiltrated informations appears to be:
Usernames
Email addresses
Passwords in phpass, MD5(WordPress), MD5(phpBB3) format
IP addresses
Game & forum activity
Purchased game premium features, but without payment information or credit card details, according with BMG's official statement:
We don't store any credit card or payment info. At all.

http://www.blankmediagames.com/phpbb/viewtopic.php?f=11&t=95378
Have I Been Pwned already included this data breach.
On Hashes.org has been published a subset of 2 million decrypted accounts: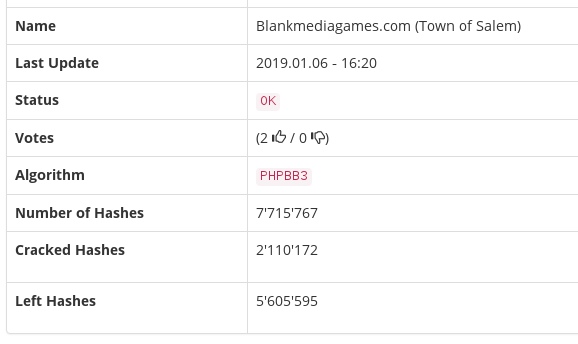 ---
References