Elon Musk unveils Neuralink: tiny wires in the brain to read electrical pulses and let humans 'merge with computers'
Ok, it sounds like science fiction, but it's not.
At its presentation at the California Academy of Sciences, Elon Musk's revealed that brain-computer interface company Neuralink its plans to begin human trials of its neuron-reading technology next year.
The company has big plans to augment humans with AI, but one of the first applications will be a way to let people control their iPhones with mind.
The announcement received enormous media coverage: so let's take a look at what the major online magazines have written.
---

Elon Musk's Neuralink hopes to put sensors in human brains next year
While we waited for Neuralink to present the progress it's made over the last couple of years in brain-computer interface technology, the New York Times and Bloomberg published information from an early briefing and it's stuff that's straight out of science fiction. The Elon Musk-backed company claims its "sewing machine-like" robot will be able to implant threads deep into a human brain.

https://www.engadget.com/2019/07/16/neuralink-brain-computer-interface/
---

Elon Musk's Neuralink Says It's Created Brain-Reading 'Threads,' Surgical Robot That Inserts Them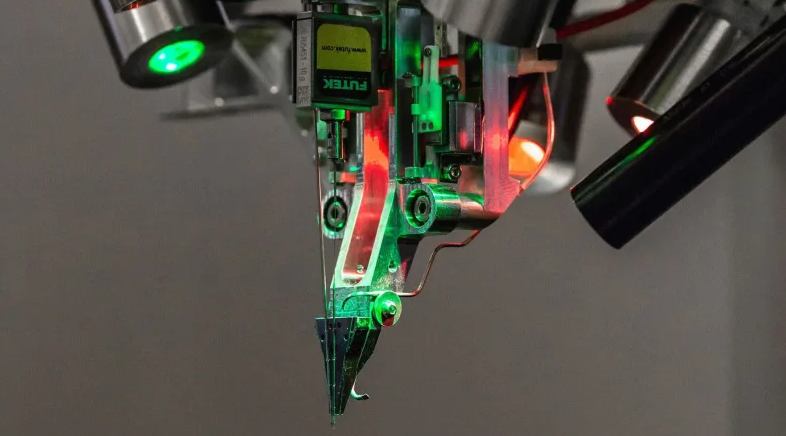 To that end, Neuralink says it has developed a new way of embedding electrodes in the brain using tiny insulated "threads" that resemble a string of pearls and connect to a chip embedded in the skull. Those threads are designed to be both sturdy enough to pass through brain tissue and withstand degradation, according to the company, while also being flexible enough to not damage tissue when the brain shifts in the skull. That could (and it's a big could) be a significant advance over current methods that use needle-like electrodes that can be risky to insert or offer degrading performance over time.

https://gizmodo.com/elon-musks-neuralink-says-its-created-brain-reading-thr-1836435602
---

Elon Musk's robot surgeon will sew electrodes into human brains, starting in 2020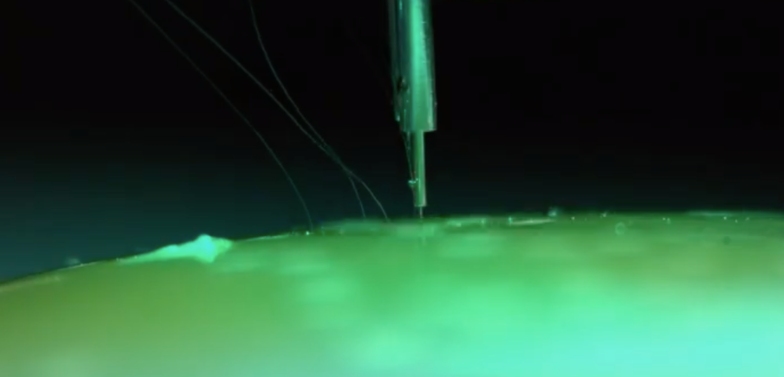 The stream - which began over 45 minutes late, to the amusement and chagrin of users in the YouTube chat window that was disabled around minute 18 - was plagued by technical issues, which is a worrying sign from a company that wants to, and I can't stress this enough, implant electrodes into human brains using robot-surgery sewing machines.
But while the company's Twitter account viewers frustrated by the elongated wait that things would kick off "shortly", Bloomberg went ahead and that the company had demonstrated in front of a reporter how the tech had been inserted into brain of a rat and successfully recorded the information being transmitted by its neurons:

https://mashable.com/article/elon-musk-reveals-neuralink-progress
---

Elon Musk's Neuralink looks to begin outfitting human brains with faster input and output starting next year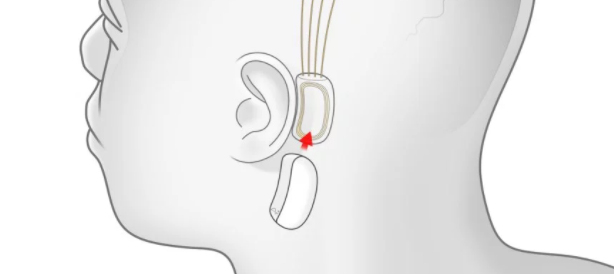 Musk also said that long-term Neuralink really is about figuring out a way to "achieve a sort of symbiosis with artificial intelligence." "This is not a mandatory thing," he added. "This is something you can choose to have if you want."
For now, however, the aim is medical and the plan is to use a robot that Neuralink has created that operates somewhat like a "sewing machine" to implant this threads, which are incredibly thin I(like, between 4 and 6 μm, which means about one-third the diameter of the thinnest human hair), deep within a person's brain tissue, where it will be capable of performing both read and write operations at very high data volume.

https://techcrunch.com/2019/07/16/elon-musks-neuralink-looks-to-begin-outfitting-human-brains-with-faster-input-and-output-starting-next-year/
---

Neuralink: Elon Musk unveils brain microchip to let humans 'merge with computers'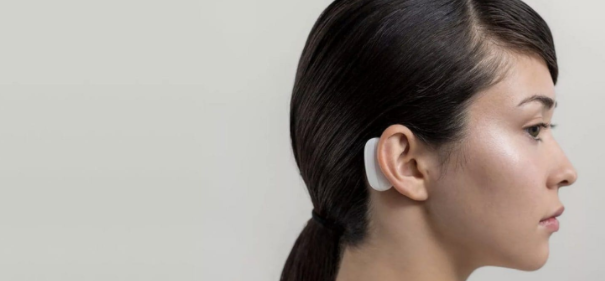 Mr Musk, 48, the chief executive of Tesla and SpaceX, said the technology will help "solve brain disorders of all kinds" and allow humans to merge with artificial intelligence.
It has so far been tested on monkeys and rats, he said.
The tiny chip, which measures 4x4mm, is connected to a thousand microscopic threads that enter the brain through four holes drilled in the skull.
Electrodes on the threads would be able to monitor "neural spikes", the electrical impulses that indicate activity in the brain. The electrodes would both be able to read from the brain and influence behaviour, and feed this back to a smartphone app.

https://www.telegraph.co.uk/technology/2019/07/17/neuralink-elon-musk-unveils-brain-microchip-treat-diseases-let/
---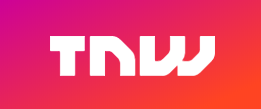 Elon Musk's Neuralink is building tech to control computers with your mind

Neuralink's President, Max Hodak, told journalists in a briefing that the company's planning to drill 8mm holes into a paralyzed human's skull and install implants through which they can control phones and computers. He added that in future it plans to use a laser to drill holes to reduce pain.

https://thenextweb.com/science/2019/07/17/elon-musks-neuralink-can-read-a-rats-brain/
Elon Musk's Neuralink wants you to type on your iPhone using your brain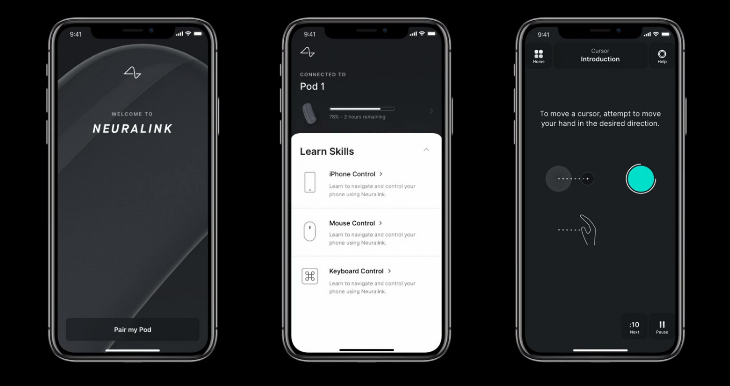 With a little of training, explained Neuralink president Max Hodak, you'll be able to control your phone's cursor and keyboard; the app will essentially receive input from your mind (via The Link) just as it does with any third-party keyboard. That could be great for people with physical disabilities.
It isn't clear how long we'll have to wait for this digital telekinesis to become a reality; Neuralink explained that it's a long while away from offering commercial products and services. But if the company can pull off everything it's talking about at today's presentation, it will drastically change how people interact with gadgets and AI.

https://thenextweb.com/artificial-intelligence/2019/07/17/elon-musks-neuralink-wants-you-to-type-on-your-iphone-using-your-brain/
---

Elon Musk unveils Neuralink's plans for brain-reading 'threads' and a robot to insert them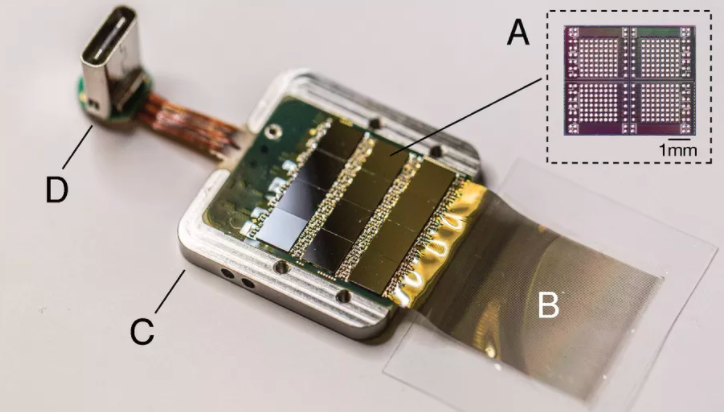 In the future, scientists from Neuralink hope to use a laser beam to get through the skull, rather than drilling holes, they said in interviews with The New York Times.Early experiments will be done with neuroscientists at Stanford University, according to that report. "We hope to have this in a human patient by the end of next year," Musk said.
During a Q&A at the end of the presentation, Musk revealed results that the rest of the team hadn't realized he would: "A monkey has been able to control a computer with its brain."

https://www.theverge.com/2019/7/16/20697123/elon-musk-neuralink-brain-reading-thread-robot
---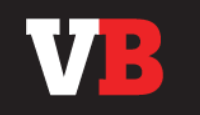 Neuralink's tech embeds tiny wires in the brain to read electrical pulses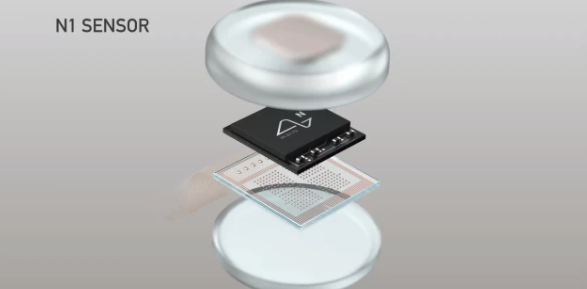 Neuralink demonstrated a device embedded within a laboratory rat's brain that's capable of extracting information from many neurons at once. Novelly, it uses flexible cellophane-like conductive wires inserted into soft tissue using a so-called "sewing machine," the work of founding Neuralink members from the University of California Tim Hanson and Philip Sabes along with UC Berkeley professor Michel Maharbiz.

https://venturebeat.com/2019/07/16/neuralinks-technology-embeds-tiny-wires-in-the-brain-to-read-electrical-pulses/
---

Elon Musk's Neuralink Says It's Ready for Brain Surgery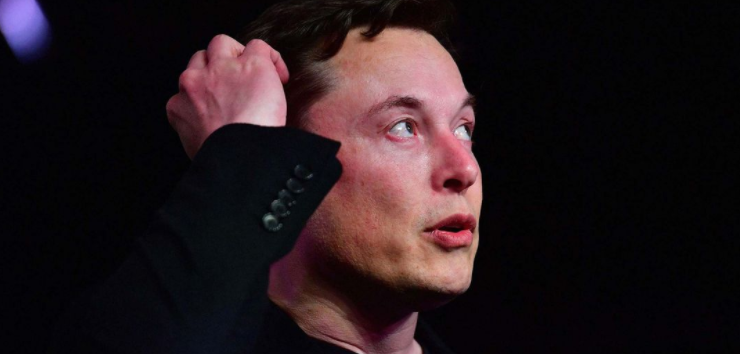 The company will seek U.S. Food and Drug Administration approval to start clinical trials on humans as early as next year, according to President Max Hodak. The goal is to drill four 8mm holes into paralyzed patients' skulls and insert implants that will give them the ability to control computers and smartphones using their thoughts. Yes, really. "A lot of people have written this off like it's impossible," says Hodak. "There will be great things to come in this field in the next decade, and they should take it seriously."

https://www.bloomberg.com/news/articles/2019-07-17/elon-musk-s-neuralink-says-it-s-ready-to-begin-brain-surgery
---
Elon Musk's brain-interface company is promising big news. Here's what it could be.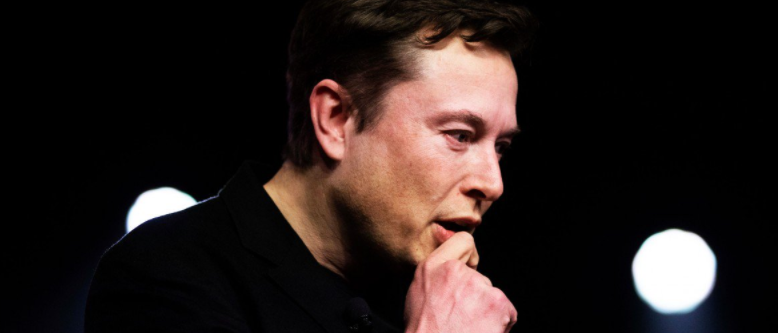 Although everything about Neuralink is top secret, here at MIT Technology Review, we couldn't resist guessing at what the company will show the world. A look at the available evidence suggests Neuralink will show off a "high-bandwidth" connection to a monkey brain—one able to extract lots of information by recording the activity of many neurons at once, using ultrathin flexible electrodes. That could be used to do something cool, like get a monkey to play a video game with its mind.

https://www.technologyreview.com/s/613961/elon-musks-brain-interface-company-is-promising-big-news-heres-what-it-could-be/