KolibriOS: a full operating system in 1.44 Megabytes
KolibriOS is an open source operating system with a monolithic preemptive kernel, video drivers, for 32-bit x86 architecture computers.
The entire operating system with a good set of application fits into a 1.44 Mb Floppy Disk.
The project is an open source fork of MenuetOS, written entirely in Flat Assembler:
Kolibri features a rich set of applications that include word processor, image viewer, graphical editor, web browser and some games.
Full FAT12/16/32 support is implemented, NTFS Ext2/3/4 are supported in ReadOnly mode.
Finally, drivers are written for popular sound, network and graphics cards.
---
How to try Kolibri?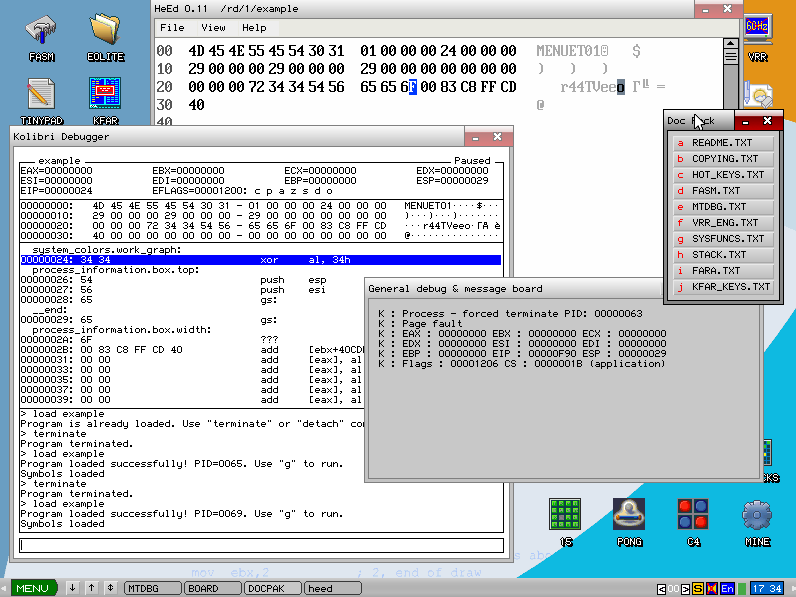 On your linux box you can easily run Kolibri FD image using QEMU.
First, install QUEMU:
sudo apt install qemu-system-x86
Then, download and unzip the Floppy Disk image: http://builds.kolibrios.org/eng/latest-distr.7z
Finally, run FD image using QEMU:
qemu-system-i386 -L . -m 256 -fda ./kolibri.img -boot a -vga vmware -net nic,model=rtl8139 -net user -soundhw ac97 -usb -usbdevice tablet
---
References