Light Commands: hacking voice assistants via laser beam
Researchers from the University of Michigan and the University of Electro-Communications in Tokyo, demonstrated that is possible to hack smart voice assistants like Siri, Alexa and Google using a lasers beam to send them inaudible commands.
This new technique, dubbed Light Commands, exploits a design flaw in the smart assistants MEMS microphones.
MEMS (microelectro-mechanical systems) microphones convert voice commands into electrical signals, but researchers demonstrated that they can also react to laser light beams:
By shining the laser through the window at microphones inside smart speakers, tablets, or phones, a far away attacker can remotely send inaudible and potentially invisible commands which are then acted upon by Alexa, Portal, Google assistant or Siri.
Making things worse, once an attacker has gained control over a voice assistant, the attacker can use it to break other systems.
---
The research team
---
Which devices are vulnerable to Light Commands?
According with the technical paper, the attack has been successfully tested on the most popular voice recognition systems, such as Amazon Alexa, Apple Siri, Facebook Portal and Google Assistant.

Below a table also with the distance used during the test
Light can easily travel long distances, limiting the attacker only in the ability to focus and aim the laser beam. We have demonstrated the attack in a 110 meter hallway, which is the longest hallway available to us at the time of writing.
Device
Voice Recognition
System
Minimun Laser Power
at 30 cm [mW]
Max Distance
at 60 mW [m]*
Max Distance
at 5 mW [m]**
Google Home
Google Assistant
0.5
50+
110+
Google Home mini
Google Assistant
16
20
-
Google NEST Cam IQ
Google Assistant
9
50+
-
Echo Plus 1st Generation
Amazon Alexa
2.4
50+
110+
Echo Plus 2nd Generation
Amazon Alexa
2.9
50+
50
Echo
Amazon Alexa
25
50+
-
Echo Dot 2nd Generation
Amazon Alexa
7
50+
-
Echo Dot 3rd Generation
Amazon Alexa
9
50+
-
Echo Show 5
Amazon Alexa
17
50+
-
Echo Spot
Amazon Alexa
29
50+
-
Facebook Portal Mini
Alexa + Portal
18
5
-
Fire Cube TV
Amazon Alexa
13
20
-
EchoBee 4
Amazon Alexa
1.7
50+
70
iPhone XR
Siri
21
10
-
iPad 6th Gen
Siri
27
20
-
Samsung Galaxy S9
Google Assistant
60
5
-
Google Pixel 2
Google Assistant
46
5
-
---
Is there a mitigation?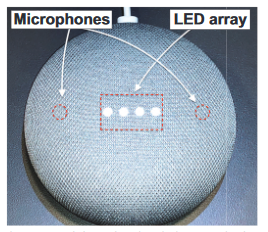 Countermasures include the implementation of further authentication, sensor fusion techniques or the use of a cover on top of the microphone to prevent the light hitting it:
An additional layer of authentication can be effective at somewhat mitigating the attack. Alternatively, in case the attacker cannot eavesdrop on the device's response, having the device ask the user a simple randomized question before command execution can be an effective way at preventing the attacker from obtaining successful command execution.
Manufacturers can also attempt to use sensor fusion techniques, such as acquire audio from multiple microphones. When the attacker uses a single laser, only a single microphone receives a signal while the others receive nothing. Thus, manufacturers can attempt to detect such anomalies, ignoring the injected commands.
Another approach consists in reducing the amount of light reaching the microphone's diaphragm using a barrier that physically blocks straight light beams for eliminating the line of sight to the diaphragm, or implement a non-transparent cover on top of the microphone hole for attenuating the amount of light hitting the microphone. However, we note that such physical barriers are only effective to a certain point, as an attacker can always increase the laser power in an attempt to compensate for the cover-induced attenuation or for burning through the barriers, creating a new light path.
---
References