Pockint: a portable OSINT Swiss Army Knife
POCKINT stands for "Pocket Intelligence".
It is an OSINT multi purposes GUI program designed to be a lightweight and portable.
POCKINT provides users with essential OSINT capabilities:
input box accepts typical indicators (URL, IP, MD5) and gives users the ability to perform basic OSINT data mining tasks in an iterable manner.

POCKINT is available for Windows and Linux platforms, is provided as a single executable that can be stored and run and the installation process is really fast&simple: just grab the latest version from the releases page.
---
Basic, but fast!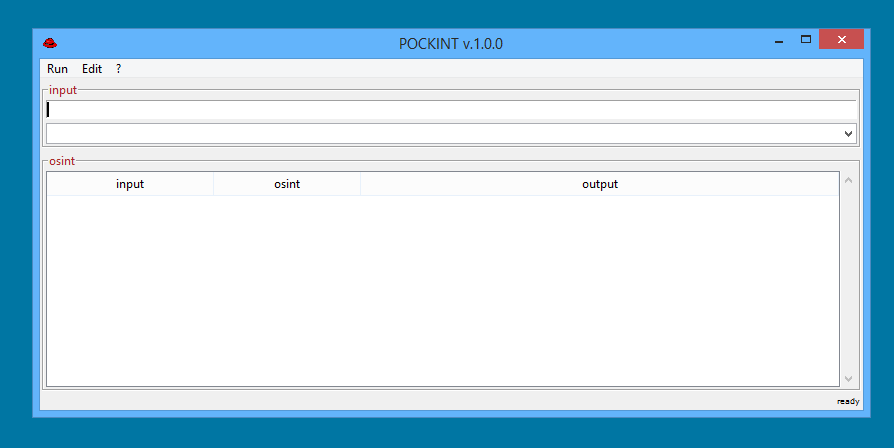 Obviously, there are a lot of OSINT tools with a great feature catalog (such as Maltego or pOSINT), however
POCKINT focuses on simplicity: INPUT > RUN TRANSFORM > OUTPUT … rinse and repeat. It's the ideal tool to get results quickly and easily through a simple interface.
---
Data mining capabilities
POCKINT combines free OSINT sources (whois/DNS) with data retrieve using a set of specialised APIs.
So, adding a couple of API keys and you can unlock even more specialised data mining capabilities.
The tool is capable of running the following data mining tasks:
Domains
| Source | Transform | API key needed? |
| --- | --- | --- |
| DNS | IP lookup | ❌ |
| DNS | MX lookup | ❌ |
| DNS | NS lookup | ❌ |
| DNS | TXT lookup | ❌ |
| Virustotal | Downloaded samples | ✔️ |
| Virustotal | Detected URLs | ✔️ |
| Virustotal | Subdomains | ✔️ |
IP Addresses
| Source | Transform | API key needed? |
| --- | --- | --- |
| DNS | Reverse lookup | ❌ |
| Shodan | Ports | ✔️ |
| Shodan | Geolocate | ✔️ |
| Shodan | Coordinates | ✔️ |
| Shodan | CVEs | ✔️ |
| Shodan | ISP | ✔️ |
| Shodan | City | ✔️ |
| Shodan | ASN | ✔️ |
| Virustotal | Network report | ✔️ |
| Virustotal | Communicating samples | ✔️ |
| Virustotal | Downloaded samples | ✔️ |
| Virustotal | Detected URLs | ✔️ |
URLs
| Source | Transform | API key needed? |
| --- | --- | --- |
| DNS | Extract hostname | ❌ |
| Virustotal | Malicious check | ✔️ |
| Virustotal | Reported detections | ✔️ |
Hashes
| Source | Transform | API key needed? |
| --- | --- | --- |
| Virustotal | Malicious check | ✔️ |
| Virustotal | Malware type | ✔️ |
EMails
| Source | Transform | API key needed? |
| --- | --- | --- |
| N/A | Extract domain | ❌ |
---
References