It's Friday! Let's talk about Minecraft, Books, Space Movies AI and Robots!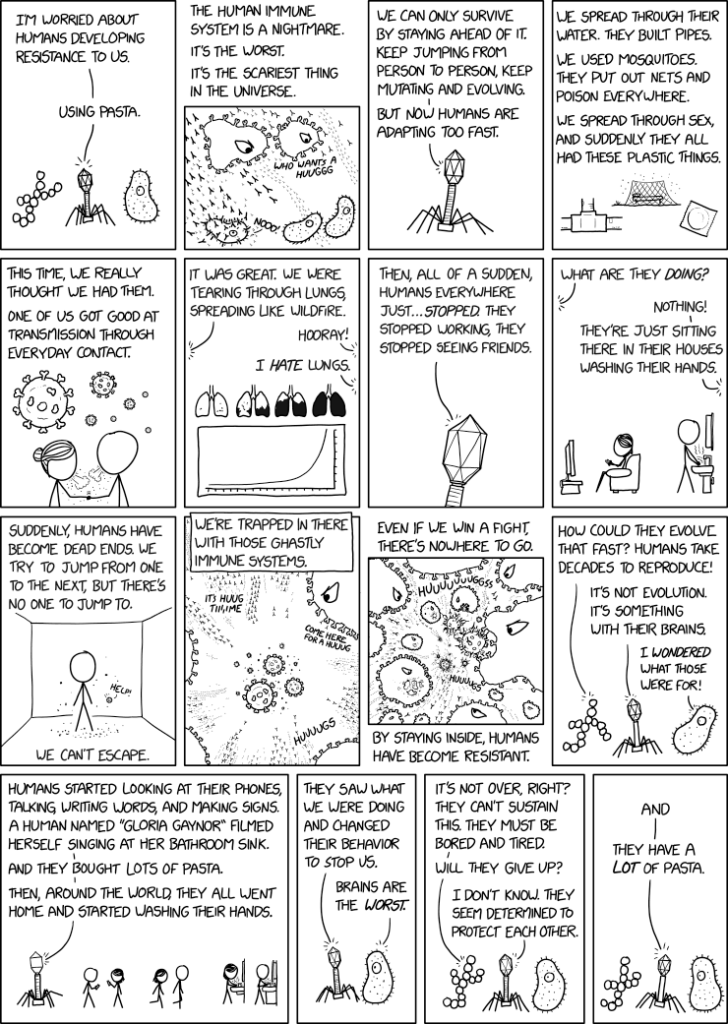 Automated decision-making systems and the fight against COVID-19
As the COVID-19 pandemic rages throughout the world, many are wondering whether and how to use automated decision-making systems (ADMS) to curb the outbreak.

Different solutions are being proposed and implemented in different countries, ranging from authoritarian social control (China) to privacy-oriented, decentralized solutions (MIT's 'Safe Path').

What follows is a set of possible principles and considerations on which to ground an informed, democratic and useful discussion regarding the use of ADMS in the current pandemic.
---
Simone Giertz: Why you should make useless things
In this joyful, heartfelt talk featuring demos of her wonderfully wacky creations, Simone Giertz shares her craft: making useless robots. Her inventions -- designed to chop vegetables, cut hair, apply lipstick and more -- rarely (if ever) succeed, and that's the point. "The true beauty of making useless things [is] this acknowledgment that you don't always know what the best answer is," Giertz says. "It turns off that voice in your head that tells you that you know exactly how the world works. Maybe a toothbrush helmet isn't the answer, but at least you're asking the question."
---
Minecraft scale version of the Earth is slowly taking shape
Even before there were such things as quarantines and shelter-in-place orders, Minecraft players have already been building painstaking recreations of both fictional as well as real-world locations and structures. Now that there is more time available, one can only imagine the out of this world ideas some would come up with. You don't have to travel that far, though, as our very world itself is already a source of inspiration as this new project to create a 1:1 version of the Earth in Minecraft demonstrates.
---
Astronaut Chris Hadfield Reviews Space Movies, from 'Gravity' to 'Interstellar'
Retired astronaut and engineer Chris Hadfield fact checks notable space movies using his NASA experience and vast knowledge of outer space, including 'Gravity,' 'Passengers,' 'Armageddon,' 'The Martian,' 'Interstellar,' 'First Man,' 'Hidden Figures,' 'Ad Astra,' '2001: A Space Odyssey,' 'Sunshine' and 'WALL-E.'
---
Internet Archive offers 1.4 million copyrighted books for free online
One of the casualties of coronavirus-related social distancing measures has been public libraries, which are shut down in many communities around the world. This week, the Internet Archive, an online library best known for running the Internet's Wayback Machine, announced a new initiative to expand access to digital books during the pandemic.

For almost a decade, an Internet Archive program called the Open Library has offered people the ability to "check out" digital scans of physical books held in storage by the Internet Archive. Readers can view a scanned book in a browser or download it to an e-reader. Users can only check out a limited number of books at once and are required to "return" them after a limited period of time.

Until this week, the Open Library only allowed people to "check out" as many copies as the library owned. If you wanted to read a book but all copies were already checked out by other patrons, you had to join a waiting list for that book—just like you would at a physical library.
---
Snorkeling Masks Modified Into Ventilators To Combat Coronavirus
With the rise of coronavirus pandemic patients, the lack of medical equipment is one of the greatest issues being faced globally.

The medical world is not equipped with enough numbers of ventilators, which are essential for the treatment of COVID-19 patients.

To resolve this issue, An Italian start-up Isinnova has come up with a solution to modify the snorkeling masks into emergency ventilators using 3-D printed adapters.

This idea was proposed by a former head physician of the Gardone Valtrompia Hospital, Dr. Renato Favero. In order to fix the possible shortage of hospital C-PAP masks for sub-intensive therapy he reached out to Isinnova, a company who were already manufacturing 3D printed emergency valves, with this project.
---