"I do not fear computers. I fear lack of them."— Isaac Asimov
---
Cloudflare Workers Now Support COBOL
Recently, COBOL has been in the news as the State of New Jersey has asked for help with a COBOL-based system for unemployment claims. The system has come under heavy load because of the societal effects of the SARS-CoV-2 virus. This appears to have prompted IBM to offer free online COBOL training.
---
---
Vivaldi joins anti-tracking browser brotherhood
Niche browser maker Vivaldi Technologies this week released version 3.0 of its eponymous application, which included integrated ad- and tracker-blockers.

Both tools were disabled by default in the new version, which was released Wednesday. "We believe that many users would not wish to prevent the sites they like to visit from generating revenue, and for that reason, we don't enable Ad blocker by default," wrote Jon von Tetzchner, co-founder and CEO of Vivaldi, in a post to a company blog.
---
Millennium Falcon Docking Bay Doubles As Table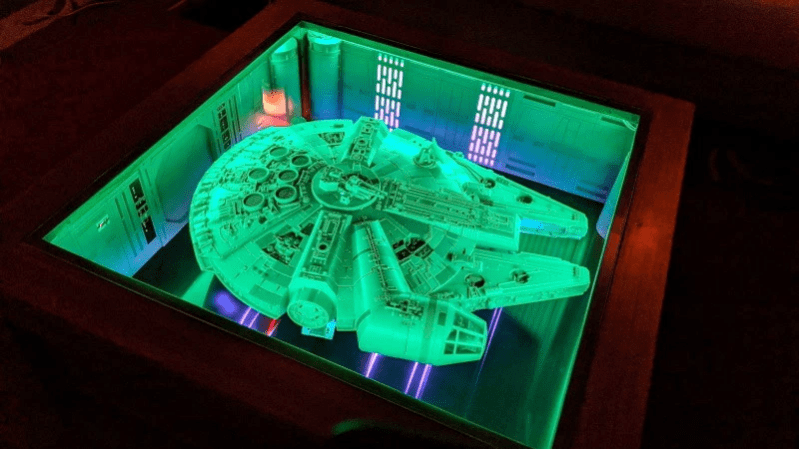 A glass table makes a perfect display case for showing off whatever's important to you, but if you want keep the dust off of your treasures, closing up the sides is probably a wise move. It might not be a bad idea to put some lighting in there to make sure everything is easy to see. You might as well make the lights RGB and remote controlled, so you can fiddle with the look from across the room. Of course, you could go all in and just make the thing a diorama…

It's not hard to imagine the line of thinking that convinced [Erv Plecter] he should turn a simple glass table into a docking bay for a model of the Millennium Falcon, and looking at the final results, we think it was the right move. With an incredible attention to detail, what started out a generic looking table and rather modest toy, have been combined into an interactive display that could woo even the staunchest of Trekkies.
---
Google announces four new features for Google Duo
Google Duo is one of the video calling apps that has received a lot of traction during the coronavirus pandemic. In a bid to compete with others, Google has revealed new features for Google Duo. in a blog post, Google revealed four new features for Google Duo users to improve the overall experience and to stay ahead of the competition. You can head below to check out the new features.
---
Google Meet now shows 16 faces in a grid, adds video presentation sharing
Online video conferencing services are on the rise these days and with the downfall of the giant Zoom, more and more services are competing in that space. The big names are naturally there, like Skype and Microsoft Teams and, of course, Google Meet. Formerly known as Hangouts Meet, Google's video conferencing service has not only gotten a new name but new features as well, including this new way to see 16 faces all at ones, exactly like the now unpopular Zoom.
---
Twitter bans tweets encouraging attacks on 5G stations
Twitter has banned tweets supporting 5G conspiracy theories that encourage vandalism.

The social media company said it would remove tweets linking 5G with the coronavirus pandemic if they "incite people to action".

It updated its policy to include tweets that could cause mass panic or unrest.

Its policies now specify that banned content includes "unverified claims that incite people to action, could lead to the destruction or damage of critical infrastructure, or could lead to widespread panic, social unrest, or large-scale disorder".

Banned tweets would include: "The National Guard just announced that no more shipments of food will be arriving for two months — run to the grocery store ASAP and buy everything" or "5G causes coronavirus — go destroy the cell towers in your neighborhood!", the company said.
---
The Morning After: Why the iPhone SE is the 'best budget smartphone'
After a few years away, the iPhone SE is back. For 2020, the name is attached to an iPhone 8-style device that has been updated with the same A13 Bionic chipset as in the iPhone 11 family. With a starting price of $399, it provides an impressive amount of performance and camera wizardry without breaking the bank.
---
Canonical launches Ubuntu 20.04 LTS 'Focal Fossa'
Canonical has announced the availability of Ubuntu 20.04 LTS 'Focal Fossa'. According to the firm, this update has a particular emphasis on security and performance. The new update uses the GNOME 3.36 desktop environment which includes a new lock screen, and there's also an option to switch to dark mode in the Appearance tab in the settings.

In its statement, the firm said the WireGuard VPN client is installed by default and will be backported to Ubuntu 18.04 LTS. Commenting on the software's inclusion in the popular Linux distribution, Jason A. Donenfeld, creator of WireGuard, said:

"Including WireGuard by default in all recent versions of Ubuntu means that users will finally have a great out-of-the-box secure tunnel on Ubuntu."
---
Coronavirus: 'Murder threats' to telecoms engineers over 5G
Telecoms engineers have told Radio 1 Newsbeat they're being threatened and harassed by people who believe they're working on 5G, which has been wrongly linked to coronavirus.

Claims about any link have been branded complete rubbish by scientists.

But the union and trade body representing thousands of workers across the UK say they've had around 120 cases of abuse reported to them.

The reports have included threats of extreme violence.

"We've actually had cases where people have been threatened with being stabbed, threatened with physical violence and in some cases actually threatened with murder," says Andy Kerr, deputy general secretary of the Communication Workers Union (CWU).