PY#RATION: new Python-based malware
Researchers at threat analytics firm Securonix have uncovered a new Python-based malware that has been spotted in the wild. The malware, named PY#RATION, is a remote access trojan (RAT) that gives its operators control over breached systems.
According to Securonix, the RAT uses the WebSocket protocol to communicate with its command and control (C2) server and to exfiltrate data from the infected host. The company's technical report indicates that the malware is actively developed, as researchers have identified multiple versions of it since the PY#RATION campaign began in August.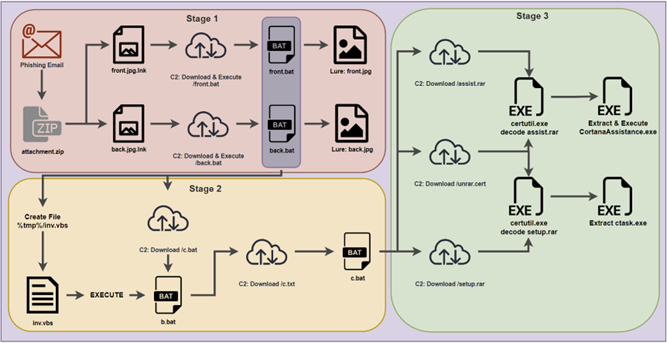 The malware is distributed via a phishing campaign using password-protected ZIP file attachments containing two .LNK files disguised as images named front.jpg.lnk and back.jpg.lnk. When run, these files appear to the victim to be the front and back of a driving licence. However, it also executes malicious code that contacts the C2 server and downloads two .TXT files, front.txt and back.txt, which are renamed to .BAT files to accommodate malware execution.
On launch, the malware creates the directories Cortana and Cortana/Setup in the user's temporary directory and then downloads, unpacks and runs additional executables from this location.
The malware obtain persistence by adding a batch file (CortanaAssist.bat) to the user's startup directory: it is delivered to the target as a Python RAT packed into an executable using automated packers such as pyinstaller and py2exe, which can convert Python code into Windows executables containing all the libraries needed to run.
This approach results in an inflated payload size, with version 1.0 (original) being 14MB and version 1.6.0 (latest) being 32MB. The newer version is larger because it contains additional code (+1000 lines) and a layer of Fernet encryption.
This helps the malware evade detection, and according to Securonix's tests, version 1.6.0 of the payload was undetected by all but one antivirus engine on VirusTotal. According to the report, the malware takes advantage of Python's built-in Socket.IO framework, which provides functions for both client and server WebSocket communication, and is used for both communication and data exfiltration.
Indicators of compromise
SHA256/IP
4d297ebe3b607eb88a6c30a74a0ad23272f44ffbcf2b49f72444048b78c6e1b4
3b445be3da961379b11af1fee71fe4513e10832f77727b3a8bbe2eb7bd60b5c3
fd78f398e7cc8ced62deba213e0218d780357bcf89e01b748f8ed1e252ac3b21
4a32aa89a5250801c53d19370d98682e0561b642901bdd2987831bc983e0a544
c4cf65c95e68c6d610d8735d2922f89f98a6f37257b41ba01cf8179d5947298e
e3b0c44298fc1c149afbf4c8996fb92427ae41e4649b934ca495991b7852b855
5f72c5dde7cba7071193ee7053e1adde5ea570f0c4192ac350f5835766060e5a
6f8b208c3d4c1536ddf99304c880b939036a0725b1cc7fd44d768703da86fb68
180d61cbde7676c78b7b56b090f0c0d1ca5a69902ceaff26b0a1181351901011
06ecb59154d873889d92cead73238b5815358fa8a39c39868f735b24da0a3182
142b485d45344ff03c056ebf1bfe25eaeb0496338b5b2e0bb64bfef1ff81c4e6
fb592d344486d7c4d15df05ce58c84717b89dda7ae5bbd1aeccf49fbc7d47646
9501b38435b960d1a1f03785681345f9f215e9b799d3ae624b989df9e32e1b38
95d2c8e6109f0ce1afb4b9d902b2f88b48ca41c6713855f3d0bf77d869a5c9a4
bba407734a2567c7e22e443ee5cc1b3a5780c9dd44c79b4a94d514449b0fd39a
24d66c7d5c6250403a957c282772b01c9edab85a29bcea8e0690ad7672f74ddf
19c9c6c24a5f024e6469069ac8c1b0abae0ba50cb8e88b269d0a9a4c2a96265e
api.realproheros[.]com
install.realproheros[.]com
files.secureway[.]fun
login.secureway[.]fun
api.safeit[.]com/install/log?error=
169[.]239.129.108:5555
169[.]239.129.108:5555/client/config
169[.]239.129.108:5555/socket.io/?transport=polling
169[.]239.129.108:5555/socket.io/?transport=websocket