Russian threat group steal screenshots from victims devices
A Russian threat group, dubbed TA866 by Proofpoint, is suspected of using a new technique to steal sensitive information. The group has been taking screenshots of infected devices and uploading them to a remote server.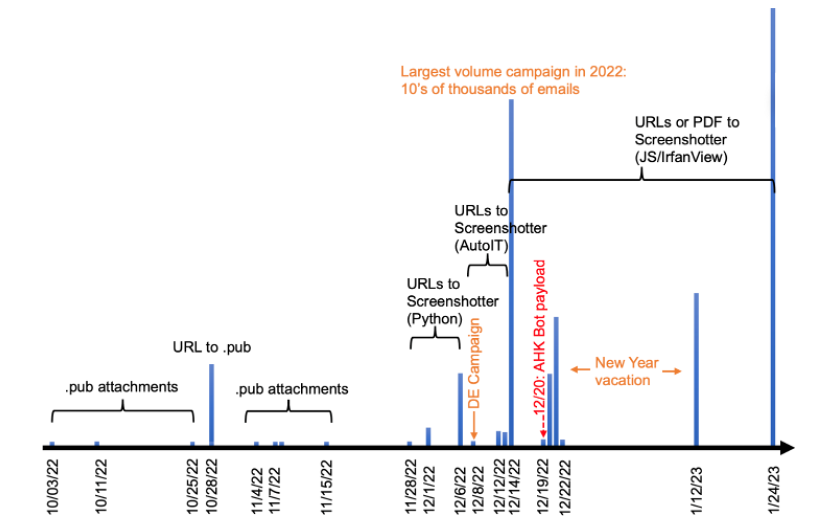 The use of screenshots is becoming increasingly common among threat actors as it is an easy and effective way to gather information.
This technique allows cybercriminals to gather sensitive information without directly exfiltrating the data, targeting individuals and organisations in the financial, legal and political sectors.
The group's tactics, techniques and procedures (TTPs) have been observed in several recent campaigns: the majority of the activities was observed in October 2022, but there have been multiple clusters of activity identified since 2019.
Indicator of Compromise
Domain/SHA256/URL
southfirstarea[.]com
peak-pjv[.]com
otameyshan[.]com
thebtcrevolution[.]com
annemarieotey[.]com
expresswebstores[.]com
styleselect[.]com
mikefaw[.]com
fgpprlaw[.]com
duncan-technologies[.]net
black-socks[.]org
virtualmediaoffice[.]com
samsontech[.]mobi
footballmeta[.]com
gfcitservice[.]net
listfoo[.]org
duinvest[.]info
shiptrax24[.]com
repossessionheadquarters[.]org
bluecentury[.]org
d934d109f5b446febf6aa6a675e9bcc41fade563e7998788824f56b3cc16d1ed
hxxp[:]//79[.]137.198.60/1/ke.msi
29e447a6121dd2b1d1221821bd6c4b0e20c437c62264844e8bcbb9d4be35f013
292344211976239c99d62be021af2f44840cd42dd4d70ad5097f4265b9d1ce01
hxxp[:]//109[.]107.173.72/%serial%
02049ab62c530a25f145c0a5c48e3932fa7412a037036a96d7198cc57cef1f40
d0a4cd67f952498ad99d78bc081c98afbef92e5508daf723007533f000174a98
6e53a93fc2968d90891db6059bac49e975c09546e19a54f1f93fb01a21318fdc
322dccd18b5564ea000117e90dafc1b4bc30d256fe93b7cfd0d1bdf9870e0da6
hxxp[:]//109[.]107.173.72/screenshot/%serial%
1f6de5072cc17065c284b21acf4d34b4506f86268395c807b8d4ab3d455b036b
3242e0a736ef8ac90430a9f272ff30a81e2afc146fcb84a25c6e56e8192791e4
3db3f919cad26ca155adf8c5d9cab3e358d51604b51b31b53d568e7bcf5301e2
hxxp[:]//89[.]208.105.255/%serial%-du2
hxxp[:]//89[.]208.105.255/%serial%
hxxp[:]//89[.]208.105.255/download?path=e
moosdies[.]top