Iron Tiger group creates Linux version of its custom malware
According to research recently published by cybersecurity firm Trend Micro, Iron Tiger, a Chinese-speaking threat group known for targeting organisations in East Asia, has created a Linux version of its custom malware known as SysUpdate.
The malware is designed to evade detection and provide persistent backdoor access to targeted systems: the Linux version is similar to its Windows counterpart, and is capable of performing various malicious activities such as executing shell commands, stealing sensitive information, and uploading and downloading files to and from the compromised system.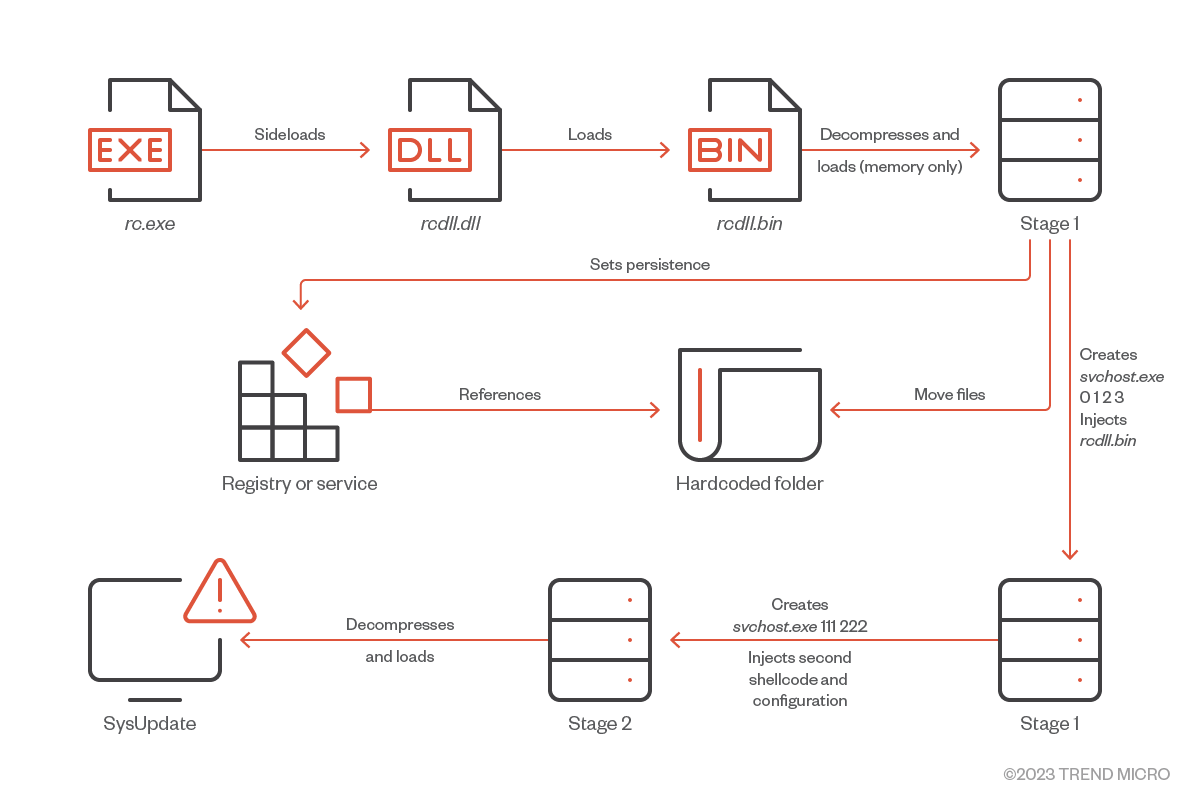 Iron Tiger has been active since at least 2010 and has targeted various industries, including telecommunications, government and military.
The researchers suggest that this move may be part of a wider effort by Iron Tiger to expand its toolset and increase its ability to target a wider range of systems.
---
Indicator of Compromise
SHA256
6d9031eb617096439bc8c8f7c32f4a11ffefc4326d99229fc78722873092e400
11f21d08f819dea21a09c602a4391142a5648f3e17a07a24d41418fcc17ea83f
9add546cb9527f9d7e4930aaddec6e14c70d1400d0d531a9102efd4c83b27dd7
3ac029e49ca71d948bfe1a7bc691967cf26cb5a731c7807d5be3cf6b579fa8ab
2ada1b48457c169cf3f80e248190374102615e2c89b70e574fba4ddc09b5fcd5
09a3231a300d794010c3f400617cd0b1b7aab7141735a2b8635a8362584e196d
c65c435737ac02132d9dfeb6ec1d7d903648f61ecdda8a85b4250f064cb4673f
43ae4e624413a587667027c03416d78b2515ac9081b8c9c967aadb1157f49e55
b92a9dcdcf0bec8cd1e8b701dbf7bd6f7e68473a9e711267a4af8e4be783bb1e
08dd5a9fdc387855fb5a23c167abec63b22272f66de099155036c5ce7e4deeb8
1e2b05838edfb0460fc97e2d7bab2271891c55ca0c895d4db30cf2acfaea51d2
d950cc937f4df9ab0bad44513d23ea7ecdfae2b0de8ba351018de5fb5d7b1382
b504ab7a4a35e6deb34536d4663db696918961aadc03662b2c34e89b50ba10a1
a8527a88fb9a48f043a0b762c7431fb52e601b72ff2fa0d35327e5cc72404edc
0daa82650712f2338803521969f7dc7deebba0e34c4797a9e39d99595d7eb423
9499eabf880a55522c1b78d5afaa9ff34ae958950627ccd15099f2e771c9b0b1
ff6502b16b0c2eebef15964fd6fcc60c23b4afa88bebe99cfc54ee73f11aeb62
735eddc24aa98f30d8e6839dc8c669f565aa760952af8d00d4f6fbfe6776631d
ba1dabf7ff0a4bca8d7ff6e541b1930fc8328d240ba8a56ede96cc203daf6772
2027784b3f0e8e5f6add0aa42c6b9b6ea3e3e1af6373a465cb57b145d24373bf
76b5fa39d5b519e82e63466df1a6b2068cc9754343efbabf862924557c0fc213
0cd3df91582551182a0decf662a112e59591cf07f3d107f09df3194f7d498e62
83209d9b8ebd0add8665e533d0948ae4e878ccc21ba5e3b00bea8833b59acf9a
ba484eebda8dbe07b36eb07fa6c5cbb8d1dcc6638808cdcf7f33d7bab51d2805
123880edc91f7dc033a769d9523f783f7b426673ee95e9e33654cdfa95a6462c
fac0009d615e98238cf348819b21f0dbbb462653c2257f1c6ef552838894e166
39f90ef532307c23f485f6d337fd820651581aeb72f678477bcb106a3d831997
ed5047461b2cccac4e81bd9fa73469d69468521174b981b5f76abb450c6fdabe
cc196ee155bf864071cbeec3ddcd3e2451a37d4296f53a024142c70193b9691d
3f808df5af6889c2219fd4982dd49946535528237cc00530cce5c69c3e7f0e34
aad2e40411aa08e398cdf7397c7a1b3b7ab2a5ba833b6d65f68b145d51c2ed05
c256b85747ad81e3f3f6c49ce496e77f024b302f921cb007a5f5375ac5b672d7