MacStealer malware targets Apple's macOS devices to steal sensitive information
According to a recent research from cybersecurity firm Uptycs, a new malware named MacStealer is targeting Apple's macOS operating system to steal sensitive information, including documents, cookies, and login credentials.
The malware primarily affects devices running macOS versions Catalina and later on M1 and M2 CPUs, uses Telegram as a command-and-control platform to exfiltrate data and is delivered as a DMG file (weed.dmg) that opens a fake password prompt to harvest passwords.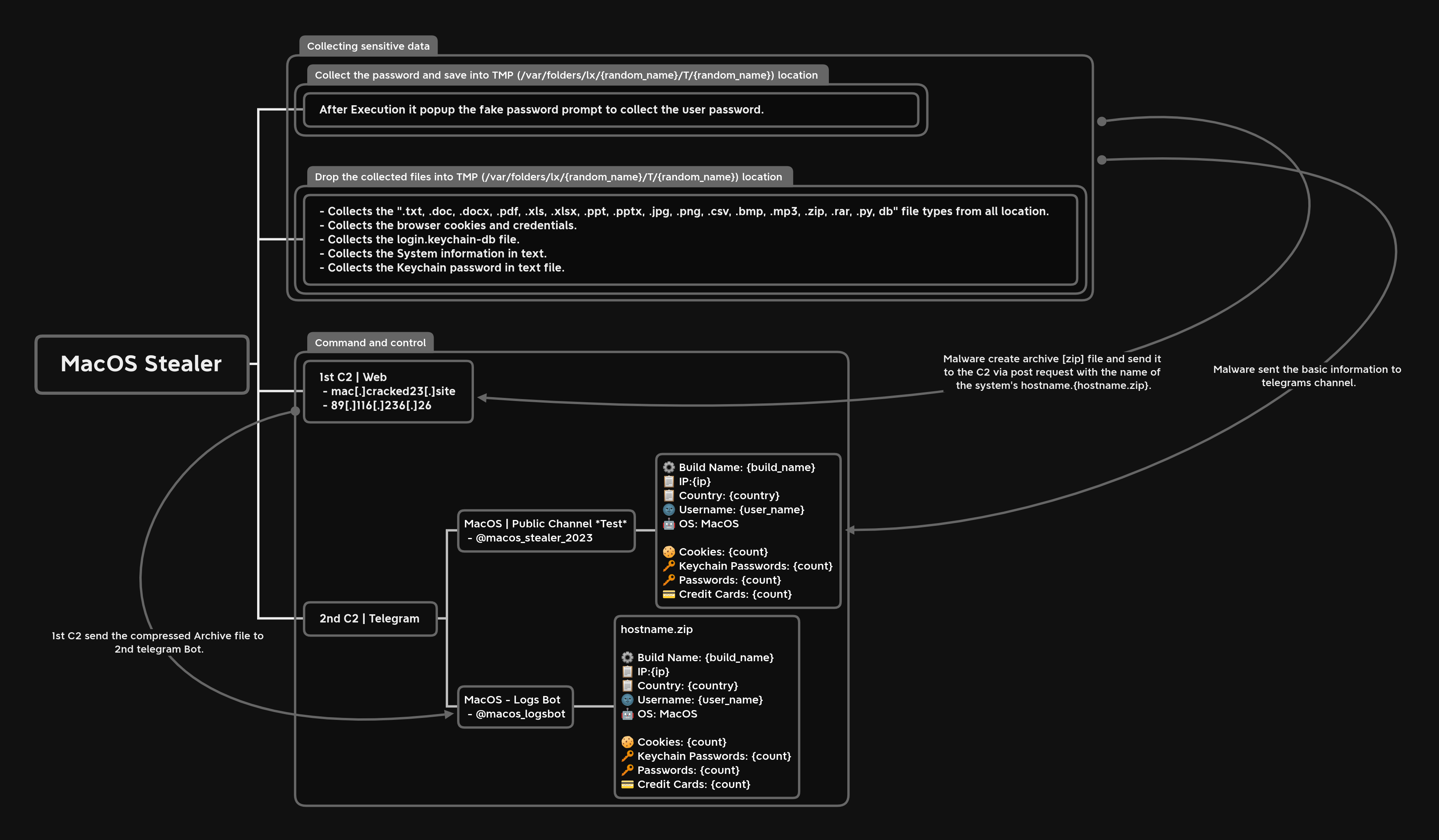 The malware is still a work in progress, with the authors planning to add features to capture data from Safari and the Notes app.
Uptycs researchers Shilpesh Trivedi and Pratik Jeware advises users to keep their operating system and security software up to date and avoid downloading files or clicking links from unknown sources to mitigate such threats.
---
Indicator of Compromise
SHA256/IP/URL
e51416f12f8c60e7593bef8b9fc55e04990aa047ad7e8abc22b511e7eb7586f6
1b5ef101ac0b3c0c98874546ec4277e6a926c36733ab824cece9212373559818
f14dd83e60b8ca6d52e667ed85adafa9b849df33e428b005b05b7c6732de526a
977cf1a74467e72b7fd9434bebd9e171a45b520ade960771b31f3bd5e9e4a5aa
5031aa79912fb23bcbe2209e015974fccb4b9e9334a9e8801833f07bd3a5ccfc
15d1afca780e2ea6ffec8c4862a3401e003b5e79ce5f9076b4eea4ab599bc4ce
821ecdae151ed78eb4792d40a7787127927900a763f3249b31f37d7b67b5e1e5
df71b5c99052b63de167f9c22b3cf6ded513ed6d1e1c74eff7af8cf9e4692714
1153fca0b395b3f219a6ec7ecfc33f522e7b8fc6676ecb1e40d1827f43ad22be
e01eec798a326a1e0beb767cdd0f185e19361871de82e23568042e9fc6128bb6
acef9f3f215335462e2e2e4bacbe6c52e48e764e7174fe46966e29902f6a1890
d61666b49ef700cbd59c744bf5fca2e850be55a52f415102cf3ea1c1c2db18d4
2abc380ad22c47db0035df1f0e6e00a7fabcb5d4afd913e2474478ea11ea6a63
7eed5a8f486aaba3948307f165a636df83857ab6cea21b8fd5e0ff758bb134b3
61f3cd0a7c8191745080aa7b2e0695c3a57327f1f226d9fc7a4be3cee14a2375
1b0684ab02071f8bb03967866596efcea92a48e49f8b1013a6301653f7687e74
9b17aee4c8a5c6e069fbb123578410c0a7f44b438a4c988be2b65ab4296cff5e
6a4f8b65a568a779801b72bce215036bea298e2c08ec54906bb3ebbe5c16c712
hxxp[:]//mac[.]cracked23[.]site/uploadLog
mac[.]cracked23[.]site
89[.]116[.]236[.]26
hxxps[:]//t[.]me/macos_stealer_2023
hxxps[:]//t[.]me/macos_logsbot