APT43: a new North Korean espionage group
A new report from cybersecurity firm Mandiant sheds light on a previously unknown threat actor operating on behalf of the North Korean regime and using cybercrime to fund its espionage operations.
The group, dubbed APT43, is a prolific and aggressive actor that has been active since 2018 and has targeted various sectors and regions for intelligence gathering. The group also steals and launders cryptocurrency, using sophisticated techniques to hide its tracks and buy operational infrastructure.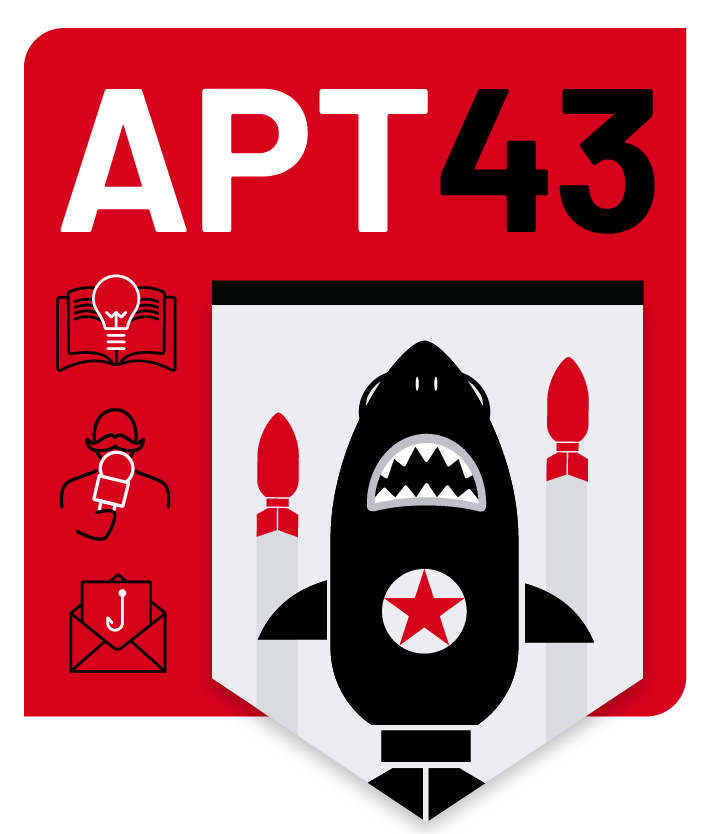 According to the report, APT43's collection priorities align with the mission of the Reconnaissance General Bureau (RGB), North Korea's main foreign intelligence service. The group's espionage targeting is regionally focused on South Korea, Japan, Europe, and the United States, especially in the following sectors: government, business services, and manufacturing, along with education, research, and think tanks focused on geopolitical and nuclear policy. The group shifted focus to health-related verticals throughout the majority of 2021, likely in support of pandemic response efforts.
To compromise its victims, APT43 relies on social engineering and malware, creating numerous spoofed and fraudulent (but convincing) personas for use in phishing emails and social media platforms, and also masquerades as key individuals within their target area (such as diplomacy and defense). The group leverages stolen personally identifiable information (PII) to create accounts and register domains, also creaging cover identities for purchasing operational tooling and infrastructure.
One of the most interesting aspects of APT43's operations is how they steal and launder cryptocurrency: the group buys hash rental and cloud mining services to provide hash power, which is used to mine cryptocurrency to a wallet selected by the buyer without any blockchain-based association to the buyer's original payments.
In other words, they use stolen crypto to mine for clean crypto.
This way, APT43 can generate enough funds to buy operational infrastructure in a manner aligned with North Korea's juche state ideology of self-reliance, therefore reducing fiscal strain on the central government.
The report also reveals that APT43 is able to support espionage efforts with cybercrime, is willing to engage in operations over longer periods of time, and has collaborated with other North Korean espionage operators on multiple operations, underscoring the major role APT43 plays in the regime's cyber apparatus.
---
Indicator of Compromise
| Malware Family | MD5 | SHA1 | SHA256 |
| --- | --- | --- | --- |
| AMADEY | 982fc9ded34c854 69269eacblcb4ef26 | e205ed81ccb99641dcc 6c2799d32ef0584fa2175 | 557ff6c87c81a2d2348bd8d667ea8412ala 0a055f5elae91701c2954ca8a3fdb |
| BENCHMARK | de9a8c26049699d bbd5d334a8566d38d | 47a32bc992e5d4613b3 658b025ab913b0679232c | 43c2d5122af50363c29879501776d907ea a568fa142d935f6c80e823d18223f5 |
| BIGRAISIN | 144bd7fd423edc3 965cb0161a8b82ab2 | 1087efbd004f65d226bf 20a52fldc0b3e756ff9e | 2b78d5228737a38fa940e9ab19601747c68 ed28e488696694648e3d70e53eb5a |
| BITTERSWEET | cd83a51bec0396f 4a0fd563ca9c929d7 | f3b047e6eb3964deb04 7767fad52851c5601483f | fb7fb6dbaf568b568cd5e60ab537a42d59 82949a5e577db53cc707012c7f20e3 |
| BRAVEPRINCE | 33df74cbb60920d 63fe677c6f90b63f9 | 539acd9145befd7e670f e826c248766f46f0d041 | 94aa827a514d7aa70c404ec326edaaad4b 2b738ffaea5a66c0c9f246738df579 |
|   | ebaf83302dc78d9 6d5993830430bd169 | bc6cb78e20cb2028514 9d55563f6fdcf4aaafa58 | 5cbc07895d099ce39a3142025c557b7fac 41d79914535ab7ffc2094809f12a4b |
| COINTOS | b846fa8bc3a55fa 0490a807186a8ece9 | c0c6b99796d732fa534 02ff49fd241612a340229 | 1855656bfecc359a1816437223c4a133359e 73ecf45acda667610fbe7875ab3c8 |
| COINTOSS.XLM | f92a75b98249fa61 cf62e8b63cb68fae | e5b312155289cdc6a80 a041821fc82d2cca80bcd | d0971d098b0f8cf2187feeed3ce049930f 19ec3379b14lec6a2f2871ble90ff7 |
| DRIVEDOWN | 1dcd5afeccfe204 0895686eefa0a9629 | 40826e2064b59b8b7b3 e514b9ef2c1479ac3b038 | 07aed9fa864556753de0a664d22854167a 3d898820bc92be46b1977c68b12b34 |
|   | 5fe4da6a1d82561a1 9711e564adc7589 | e79527f7307cldda62c4 2487163616b3e58d5028 | 8d0bafca8a8e8f3e4544f1822bc4bb08ce 9a3c7192c9a92006bleb500771ab53 |
| EGGHATCH | e8da7fcdf0ca67b 76f9a7967e240d223 | b0c2312852d750c4bce b552def6985b8b800d3f3 | 9dac6553b89645ac8d9e0a3dc877d1264 le6d05fb52e8de6ae5533b2bdf0abc9 |
| FASTFIRE | 2bf26702c6ecbd4 6f68138cdcd45c034 | 1b9a4c0a5615a4f96a04 1d771646cla407b17577 | 38dld8c3c4ec5ea17c3719af285247cbld8 879c7cf967elbe1197e60d42c01c5 |
| Gh0st RAT | 2d330c354c14b39 368876392d56fb18c | alf72c890d0b920f4f4c b2d59df6fa40734de90d | f86d05cld7853c06fc5561f8df19b53506b 724a83bb29c69b39f004a0f7f82d8 |
| GOLDDRAGON | 15ec5c7125e6c74f 740d6fc3376c130d | fb09b89803da071b7b7e b23244771c54d979a873 | 4alc43258fe0e3b75afc4e020b904910c9 4d9ba08fcle3f3a99d188b56675211 |
| GOLDDRAGON POWERSHELL | 2a5562deld3e734 d9328alc78b43c2e5 | 4b0d0ebb0c676efe855 bed796221dd475a39ba40 | 203ea478fa4d2d5ef513cad8b51617e0c9f 7571bf3a3becf9c267a0d590c6d72 |
| GOLDDROP | 0cc0aa5877cec91 09b7a5a0e3a250c72 | 1d49d462alla00d8ac96 08e49f055961bf79980d | 1324acdlf720055e7941b39949116dfe72ce 2e7792e70128f69e228eb48b0821 |
|   | 2c530adb84111436 6ce6177ce964a5e6 | 5b69e3e5f4f49cf8b635 a57a8c92e17a4f130d50 | 873b8fb97b4b0c6d7992f6af1565329578 8526def41f337c651dc64e8e4aeebd |
| GOLDSMELT | c066b81c4b8b070 3f81f8bc6fb432992 | 2508f5ff0c28356c0c3f 8e6cae7b750d53495bca | 63b4bd01f80d43576c279adf69a5582129 e81cc4adbd03675909581643765ea8 |
| GRAYZONE | 1d30dfa5d8f21d14 65409b207115ded6 | 942fd7b4ef1ccf7032a4 0acad975c7b5905c3c77 | ed0161f2a3337af5e27a84bea85fb4abe35 654f5de22bcb8a503d537952ble8a |
| HANGMAN.V2 | 21cffaa7f9bf224ce 75e264bfb16dd0d | 862abce03f7f5de0c466 fdbd24ad796578eaa110 | a605570555620cea6d6be211520525fc95 a30961661780da4cc4bafe9864f394 |
| Invoke-Mimikatz | 20bc53deb7b12145 80e9d9efeaa5e9d7 | e74b816f1c6d6347cb40 121e0b50dadd0d8flf 97 | 908777e58161615657663656861c212ac2569 6741ef69411021474158fa2b4cf |
| JURASSICSHELL | 9cdda333432f403 b408b9fe717163861 | d80be054a569df5f20 1191dcc4fea0dde9622da5 | d2f4bf0caed5a442198fcdc43c83c7b27ac 04f341a72b270c9ed40778aa77afe |
|   | ddae18c65d583b4 la2157d496a4bde61 | 63e113f0a906af82903 dbfac3e78bdd2d146e738 | a4bale6ab678albdf8bc05bea8310d74392 8a4e2c05bad104e6lafdd9cccf9al |
| LANDMARK | 1ffccf6cb3b74d68 df2b899fd33127a5 | a61f009e73ae81a18751e 9aee39f8121a3902280 | da22d327124a0ee6a93cd07e85f9804fbc 98eda87824ddcf7c8a63d349e87034 |
| LANDMARK.NET | 60efecf4e1b5b2c5 80329e9afa05db15 | 12c508ace6e8aa42be0 2750d759e720b800bf796 | 034d29fb89a8f68ba714f1868b2181c4cd5 9d4a2604630ef1554a6ccf3fe6d75 |
| LATEOP LATEOP.V2 | 0f77143ce98d0b9 f69c802789e3b1713 | 7da4e8b743478370fa41 fe39a45e3ff2ca2194b3 | 54a8b8c933633c089f03d07cfbd5cafbf7 6a6d7095f2706d6604e739bb9c950f |
| LOGCABIN | 0b558ee89a7bb32 968ef78104f6b9a28 | b7fdb5e5b31adfc5ada0 dele05b0c069968e5bce | 79c0fe1467dada33e0b097dd772c362296 18b7091baa5f10da083f894192a237 |
| LONEJOGGER | 139d2561f5c72fab b099a12c16b8960c | 2dd269608dd7f4da171d 1a220fe97347162008c7 | 2c338055e8245057169f1733846e0490bc 4ael17dldadefe0a3f07a63dc87520 |
|   | 14a00f517012279a f53118a491253e5c | 198040f42103ce3b840d d54bf3490587f141a0bc3 | 26a98b752fd8e700776f11bad4169a06708 24d5b5b9337f3c8f46fac33bc03e8 |
| METASPLOIT | 37e7d679cd4aa78 8ec63f27cb02962ea | 7d66clf36b4b48d99046 lec44d626793ade6a8d1 | b55e9d65a3130f543360a9c488d35475d4 789ee7a32a4e94d02f33c21a172bcb |
| PASSMARK | b077ba5af1dfbd4a c523923eab56bcd4 | 4e93797dd3b383050cf 0ee585aa5b5525efb2380 | 4a08b78d410bc3d9b78dd63b146767f293 dc3f3f6f8092352d2aa2f589e9c772 |
| PENCILDOWN | 04d0856afb1aa916 8377d6aa579c5403 | f3b774e92leaad9335b9 c057dd49b918c5dae4a6 | e637c86ae20a7f36a0ad43618b00c48f47 b5591a03af3fb689a16c45afa43733 |
| PENCILDOWN. ANDROID | 4626ed60dfc8dea f75477bc06bd39be7 | a9fflebb548f5bba600d 38e709ff331749fa9971 | 2365a48f7d6cf6dcc83195f06eallb93c95 5c3a491c60b50ba42788917ba22e2 |
| PENDOWN | 768c84100d6e318 1a26fa50261129287 | 6f4b6938ac8fd9591fc3 99219dbaf4347d8b444b | 780e7edbfad5f68051c2039036b00b304d 3f828fdbee85d2d09edbcc6d07ea34 |
| PUMPKINBAR | 946f787c129bf469 298aa881fb0843f4 | d3b233d6d8b11235929e 4a0cbdb12eefdd47d927 | 32beeda8cffc2ecc689ea2529194cf80695 5879a334ec68176864d1e6c09800c |
|   | c9d70bf37017260 9da848fa785989939 | 851ba2182b37bc738042 0a986840e16f73947413 | ba3c79dbeca0234fa838ae4c95640911555 6f437372aeeb0737206d71caf4a38 |
| QUASARRAT | 0085bc8ce16ef176 43909c4799ead02b | 25d94c9ab7635ff330da be96780f330f7f2ba775 | a9c404e100bfd2716a8f6bfafc07b0bd617 5bedb047d10b94390c79249258272 |
| SLIMCURL | 68ce092f1a3d1985 2ea32db8388de5c7 | 700acc4e48eae84f80f 4dbaf74bf60b79efd49bd | 25c2f4703cbaalff4dbcfcc16a10b29ef35c cc174b71b21de360d898540889f8 |
| SOURDOUGH | 7e609404cc258bb e283bea6ddd7af293 | 6618e25dd49b68f7b2 b266eb2d787e6f05c964bc | 502136707a70b768800640224e48c6340 57dc651892113b62522f0dd2fcfle87 |
| SPICYTUNA | 0821884168a644f3 c27176a52763acc9 | 1f6c7c9219f6b6ea30c d481968aela038789be67 | e7fae41c0bd8d3d95253bd75dce9901559 9ecc404bd8d737cec305fc3e4dd018 |
| TROIBOMB | 18df13900f118158c33 | 11f646095495d625e7d | 98d4471fe549bb3067a |
|   | df904c662e875 | 71038578cc838a6d5e111 | c2f2d9afd50edlbaaddab4lec427083498 9e7f1ade14d |
| VENOMBITE | 107f917a5ddb4d3947 233fbc9d47ddc8 | 75c516dde8415494c2 88e349d440ce778dede8e3 | 2d41b04f5d86047dc2353a10595418b0d5 239c22112f36eb9d253b2e8b6eb0d0 |
---
MITRE ATT&CK
Initial Access
T1566 Phishing

T1566.001 Spearphishing Attachment

T1566.002 Spearphishing Link
Resource Development
T1583.003 Virtual Private Server

T1584 Compromise Infrastructure

T1588.003 Code Signing Certificates

T1588.004 Digital Certificates

T1608.003 Install Digital Certificate

T1608.005 Link Target
Execution
Instrumentation
T1053.005 Scheduled Task

T1059 Command and Scripting Interpreter

T1059.00: PowerShell

T1059.003 Windows Command Shell

T1059.005 Visual Basic

T1059.007 JavaScript

T1129 Shared Modules

T1203 Exploitation for Client Execution

T1204.001 Malicious Link

T1204.002 Malicious File

T1569.002 Service Execution
Command and Control
T1071.001 Web Protocols

T1071.004 DNS

T1090.003 Multi-hop Proxy

T1095 Non-Application Layer Protocol

T1102 Web Service

T1102.002 Bidirectional Communication

T1105 Ingress Tool Transfer

T1132.001 Standard Encoding

T1573.002 Asymmetric Cryptography
Discovery
T1007 System Service Discovery

T1010 Application Window Discovery

T1012 Query Registry

T1016 System Network Configuration
Discovery
T1033 System Owner/User Discovery

T1057 Process Discovery

T1082 System Information Discovery

T1083 File and Directory Discovery

T1087 Account Discovery

T1518 Software Discovery

T1614.001 System Language Discovery
Collection
T1056.001 Keylogging

T1113 Screen Capture

T1115 Clipboard Data

T1213 Data from Information Repositories

T1560 Archive Collected Data

T1560.001 Archive via Utility
Persistence
T1137 Office Application Startup

T1505.00 Web Shell

T1543.003 Windows Service

T1547.001: Registry Run Keys / Startup Folder

T1547.004 Winlogon Helper DLL

T1547.009 Shortcut Modification
Defense Evasion
T1027 Obfuscated Files or Information

T1027.001 Binary Padding

T1027.002 Software Packing

T1027.005 Indicator Removal from Tools

T1027.009 Embedded Payloads

T1036 Masquerading

T1036.001 Invalid Code Signature

T1036.007 Double File Extension

T1055 Process Injection

T1055.001 Dynamic-link Library Injection

T1055.003 Thread Execution Hijacking

T1070.004 File Deletion

T1070.006 Timestomp

T1112 Modify Registry

T1134 Access Token Manipulation

T1140 Deobfuscate/Decode Files or
Information
T1218.005 Mshta

T1497 Virtualization/Sandbox Evasion

T1497.001 System Checks

T1548.002: Bypass User Account Control

T1553.002 Code Signing

T1564.003 Hidden Window

T1564.007 VBA Stomping

T1620: Reflective Code Loading

T1622 Debugger Evasion
Impact
T1489 Service Stop

T1529 System Shutdown/Reboot
Exfiltration
T1020 Automated Exfiltration
Credential Access
T1110 Brute Force

T1555.003 Credentials from Web Browsers