AlienFox: Unraveling the Multi-Functional Cloud Spammer's Swiss Army Knife
In a comprehensive analysis published by SentinelOne Labs, researchers dissect the inner workings of AlienFox, a highly versatile and multi-functional malware highlighting its features and the risks it poses.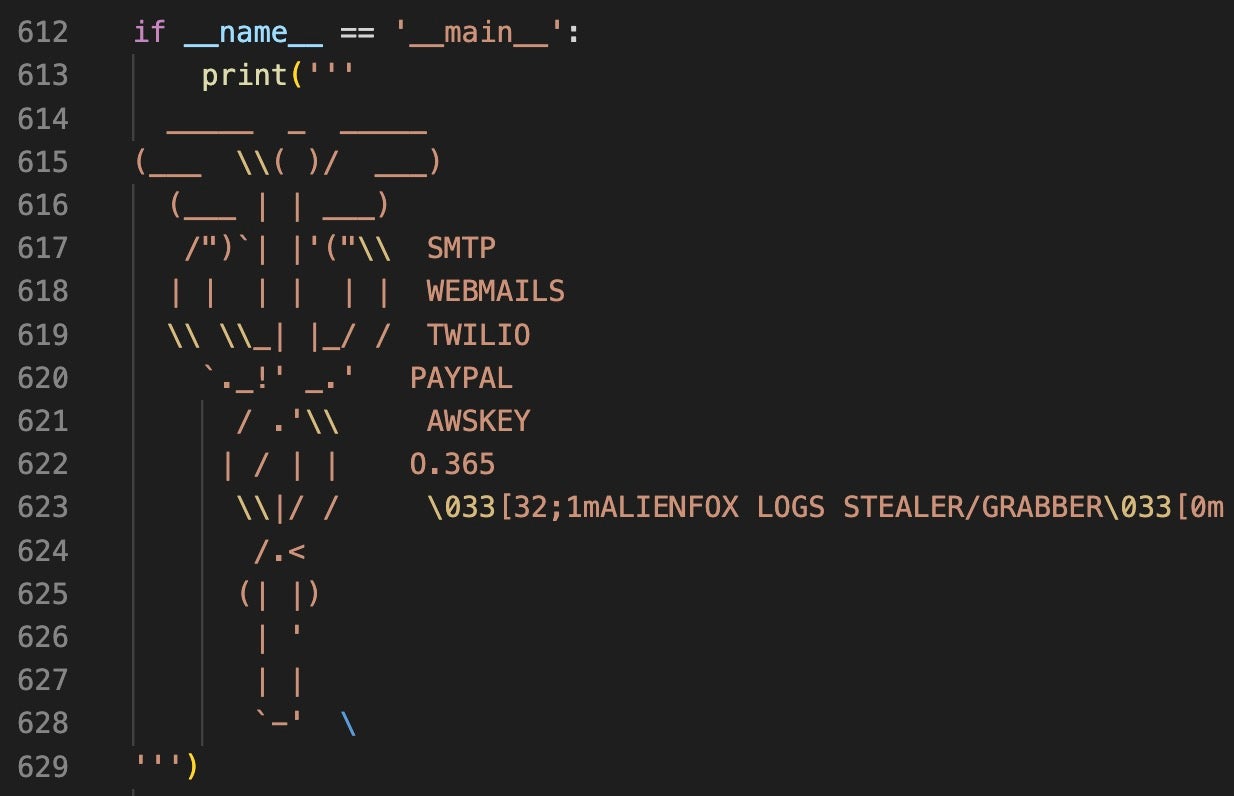 What is AlienFox?
AlienFox is a highly adaptable and multi-purpose cyber weapon, designed by its creators to serve as a "Swiss Army Knife" for various cybercriminal activities. Its primary function is to facilitate cloud-based spamming campaigns, but it also comes equipped with a wide range of other capabilities. These include remote access tools (RAT), keylogging, data theft, and even DDoS attack capabilities.
How Does AlienFox Operate?
The SentinelOne Labs report outlines the various stages of AlienFox's operations, which are typically initiated through phishing emails containing malicious attachments or links. Once executed, AlienFox establishes a foothold in the victim's system and communicates with its command and control (C2) server. It then proceeds to download additional payloads and modules, depending on the specific objectives of the attackers.
The malware's versatility is due to its modular design, allowing it to be easily updated with new features and capabilities. This ensures that AlienFox remains an effective tool for cybercriminals, as it can adapt to changing security measures and landscapes.
Some Key Features of AlienFox
The researchers at SentinelOne Labs have identified several key features of AlienFox, which include:
Cloud-based spamming: AlienFox is designed to leverage cloud services such as Google Drive and OneDrive to spread spam emails. This allows the attackers to bypass traditional email filtering systems and increase the likelihood of their phishing emails reaching their intended targets.

Remote Access: AlienFox functions as a Remote Access Trojan (RAT), allowing the attackers to gain complete control over the infected system. This can be used to monitor the victim's activities, steal sensitive data, or conduct other malicious activities.

Keylogging: The malware is capable of capturing keystrokes, potentially allowing the attackers to gain access to sensitive information such as login credentials and personal data.

Data Theft: AlienFox can search for and exfiltrate specific types of files from the victim's system, including documents, images, and even cryptocurrency wallet files.

DDoS Attack Capabilities: While not its primary focus, AlienFox has the ability to launch distributed denial of service (DDoS) attacks, potentially crippling targeted websites or network infrastructure.
---
Indicators of Compromise
SHA/URL
e786fc1fdfcb7be28650383eb33cdf6c90f1d033
8e6e18ba7e251d31b46d17535010a8c583345b23
b3559eeac9a9caa840cc96980fe0bbd1c7da37d3
40df29a738fd5cab0face169d8a8426dff7d2d10
e663e24fc6aadbaae5bbf722a84097a6127f4066
c2f51b44e26e4aca40beb887ac4d36f3e091e26a
4266bdb139ae6d22ddf98501cc3af280aa488b42
329328dc57acece8c47ab5c73f7b9c7e4e09981a
fc08c15dfd6074d80e1f8d777fb49f8c14b4af20
aa4672621f81f601882ad13f26d37dc8218bb06a
07289c56e65a98a85bc794374949aae98b819823
4ab401d4c490460fd457151f643b5ec7e594cd41
7848e53133f4470c29e33ee6dd87f8f326c5fa38
7d7bad6282531521b9103817a38bff3a34b89428
15129436f5bab6c3eea9b2dfc4d0f0043438e013
15aec55e56225700766d79b6fb9d212cced21951
ebdc60f33d22c4256ca6ab4058059db1d618ec11
894fd799168f9ff11e74ee37d5bec35387feef24
28de7d7fcd18471f53737fd8a3df3a23a34cf758
3ddb8dc53b6151ea036db3d2a5f34e5f5b39e044
ceda47dd1aacc515d8bdda04299ab1ebf1ba0d73
23abd146befe761337e5155a116138acf81331d9
ac265c12a4f08378e2519e290b0c45a1adc7156f
b8dc12cc600aced9d34c463c5bf5edb53db605fb
45a0675088afdcf2ec059510fc2a4905957c2a69
c3464926cf2075595c77dc5b3fbcf1f014c8046b
fc0479a3d1188384613f437f28e28614a6118e94
5c9993e5d7468551c60e6dab488eccea7f4ef007
ece7e6727d2daa254e4d4a6be62744d6f3a2a2ef
afb7b010bafb9f7faf2b528f128ff24da94e0190
959e377131762ccb879c36c53e3b71473d3b72fd
48afb7ac8fdf6a8da47601806a8028c61dad2eb7
hxxps[:]//rtvsmkqfa3clrvgj6f-9fd73c[.]ingress-daribow.easywp.com/wp-admin/v1/1.php
hxxps[:]//rentry[.]co/3cii9/raw